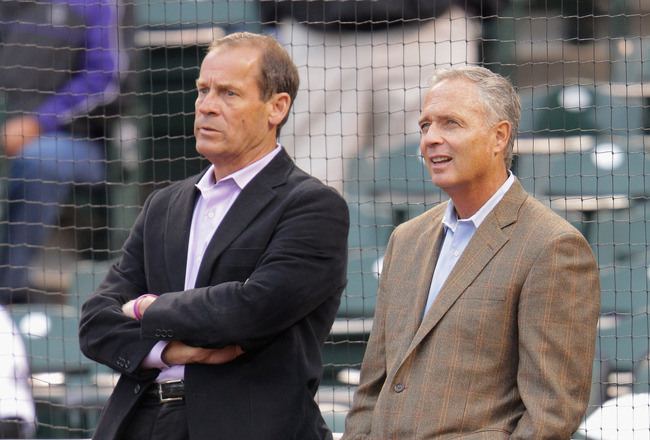 Do these guys really think the Rockies are still in the race?
Wilin Rosario bounced into a double play to end the Colorado Rockies rally in the 8th inning on Saturday night. He did it trying to pull a ball off of the outside part of the plate. It was the same pitch that pitchers have been getting him out with for two months. The Rockies lost 5-2, continuing a road trip that has buried them.
With one frame left to play and the Rockies down by three runs, the game was essentially over. The Rockies had their chance in the 8th inning and couldn't climb all the way back from a 5-0 deficit.
Some are still going to argue that the Rockies are still in the race. They are going to say that all this team needs to do is go on a run to get back in the race. In fact, even the front office continues to believe that they are in the race. With the trade deadline last Wednesday, Bill Geivett told Troy Renck of the Denver Post that the Rockies were "painfully right in the middle."
In another Renck article published on Saturday, the Denver Post scribe interviewed Dick Monfort, who echoed a similar sentiment. He said, "I think we still have a run in us. We will get Oswalt back and Bettis wasn't horrible."
With all due respect to the Colorado Rockies front office, the question must be asked. Are they delusional?
Going to a World Series is never a bad thing. The 2007 run was something that Rockies fans should cherish forever. It was the definition of why people watch sports. It was incredible.
However, it is safe to say that the 2007 Rockies run, and then the crawl back into the race in 2009, have become the biggest reason that this team is no longer a contender. Those runs successfully convinced a front office and an owner that a season that is a marathon, is really simply a well-timed sprint.
Those two runs made the Rockies front office believe that consistent play, good hitting, solid pitching and fundamental baseball isn't something that has to be worked on every day, but rather, the team simply has to put three or four good weeks of that together in a season and things will work out.
That theory will work for the Rockies. History has shown that it can happen. However, if history is the guide for the future, it means that the Rockies will be in the playoffs at least once in the next 100 years. That is how rare the two runs that the Rockies went on were in the history of the game. It simply doesn't happen.
Many Rockies fans believe that Dick Monfort doesn't care about winning. Many accuse him of being a greedy owner. I completely disagree. I believe that Monfort wants desperately to win. I also believe that if he were more greedy, the Rockies would be winners more often.
Here is why. Greedy people are never content with the amount of money that they are making. Greedy people always want more. What they made last year isn't good enough for this year. They must make more money. Greedy people are so desperate to make more money that they take huge risks in order to make that money. Monfort isn't that. Monfort is content with a business model that gives him a guaranteed amount of money and he is okay with that.
Putting a winning team on the field sells more merchandise. Going to the playoffs brings in a huge haul of cash. However, going to the playoffs requires risky decisions. It requires risky trades, where the future is traded for a player that might not get a team to the playoffs, and all is lost. It requires spending more money to bring in impact free agents. If that money is spent and the playoffs aren't realized, it means wasted money. Greedy people are willing to take that risk because they see the upside. Monfort isn't willing to take either of those risks.
It is easier to sit back and accept bad baseball, unimproved approaches at the plate, poor relief pitching, and questionable management decisions when there is still hope that a crazy run will bring a team that isn't as physically talented as the team they are 9.5 games behind. It is less of a risk, and if that run doesn't happen, there is always next year to look forward to.
For realistic fans, even the fans who still hold out hope that the Rockies will pull off another miracle run, the reality is that they are going to continue to watch a team that they have a vested interest in, yet the end result is going to become painfully more glaring with each passing game.
Rockies fans are loyal. They are not going to stop watching because the team is losing. However, it will be hard to forget the 2012 season. It will be hard to forget that the prospect of going to Rockies games simply wasn't appealing because the team didn't provide any sign of life or any real concern about winning baseball games or getting better.
The reality is, the final two months of the 2013 season should serve a purpose for the Rockies. They should fight hard to get better. They should put internal demands on themselves. This team should challenge themselves to get better as they head into 2014 a year older and a year more experienced.
The issue is, there is no real demand for that within the organization. Two of the highest positioned men within the organization went on record just this week to suggest that this team is still in the race. If they can't look at this team realistically, they will never get better. They will never demand that the team improves. They will be too busy waiting around for the team to go on a run, then realize that it is the middle of September and that run isn't going to happen.
Rockies fans will continue to hope for the best, but the reality is, the cynicism will continue to grow and the team will have a hard time getting the excitement levels back every spring. That is a bad spot for an organization. Expectations breed excitement. Mediocrity breeds a lethargic fan base. The Rockies aren't that far off.
Follow me on Twitter
@RockiesReview
. Like me on Facebook, search
"Rockies Review"