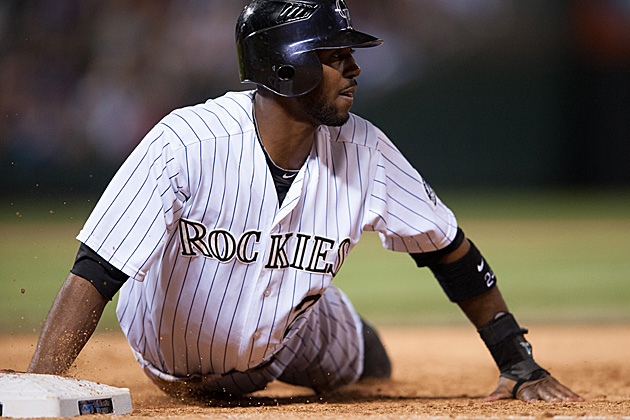 Is it time for the Colorado Rockies to trade Dexter Fowler?
The Colorado Rockies will watch their season come to an end on Sunday. With the Denver Broncos looking to go 4-0 at the exact same time, and the Rockies nearing the 90-loss mark, not many will be watching.
The Broncos will always be center-stage in Denver. That is simply how it works. However, remember back to the 2007 season and it is hard to forget the excitement around the late-season run for this franchise. On what was supposed to be the final game of the season, the Rockies sold out Coors Field in defeating the Diamondbacks, securing a play-in game the next day.
At that very moment, very few people in Colorado were concerned that Peyton Manning's Indianapolis Colts were giving the Broncos a shellacking. The eyes of Denver were on the purple and black, not the blue and orange.
The ultimate goal for the Rockies is to keep the town from paying their attention to the Broncos until October is over. In order to do that, this team has to start making bold offseason moves.
If Rockies owner Dick Monfort isn't going to make changes at the top, removing the two-headed monster general manager situation of Bill Geivett and Dan O'Dowd, then he should demand they start to change the way they handle their business.
Bold moves don't have to be trading one of the two superstars, Carlos Gonzalez or Troy Tulowitzki, although that should be at least explored. Bold moves involve not being afraid to package big league players with some of the fringe minor league depth that the team possesses.
The top name that should be shopped heavily is Dexter Fowler.
Fowler is a talented guy. He can hit for power, he can hit the ball in the gaps. He has speed. He is a great defender in center field and has a very good arm. On paper, he is a very complete paper. That is the exact reason that the Rockies should shop him. Consider the fact that he is still just 27-years-old and making $7.85 million and still under team control for another arbitration year should make him very attractive to other clubs.
The reason to trade Fowler is simple. Even in a limited sample size, the young players who have filled his role in parts of 2013, and fully in September have done a good enough job to suggest that they can adequately replace Fowler's production at the plate, even in a platoon situation.
Corey Dickerson and Charlie Blackmon have shown some rookie flaws, but at the plate they have shown the confidence that they could handle the job if it were given to them. Both are huge downgrades in the outfield compared to Fowler, but offense was the issue in 2013.
Fowler should also be shopped because he has had four full seasons in the big leagues, with the exception of two short stints in Triple-A, and hasn't figured out what type of player he is. The switch hitter seems to be bent on being the next Ken Griffey, Jr., who was his hero growing up. The problem is, Griffey was a power hitter, and Fowler's game projects more as a gap hitter who can run, with occasional pop. For a leadoff bat, Fowler strikes out too much. His speed is neutralized when he doesn't get the bat on the ball. The center fielder strikes out nearly twice for every time he walks. Someone with his skill set needs to get the ball in play far more often.
All too often Fowler's swing gets long, presumably because he is swinging to put one in the seats instead of trying to get the bat on the ball. With his speed, Fowler should also be a better base stealer, but frankly, that aspect of his game simply never developed and is completely non-existent. Since his rookie season, Fowler hasn't stolen 20 bags in a season. He has a total of 83 stolen bases and has been caught 41 times. That ratio isn't good enough for someone with his speed.
The other reason that Fowler should be dangled is because, as the Rockies front office will continue preaching, he is one of the many Rockies who seems to always have a nagging injury. In 2013 it has been a thumb and wrist injury, along with a bruised knee that has essentially sidelined him since the end of August.
Fowler is a guy who could be a star. He has the talent to make it happen, but simply said, he hasn't figured it out yet. Not one aspect of his game has become complete. He shows flashes of power that suggest he could be a power hitter, then goes dark for a while. He hits the ball in the gap for flashes, then starts striking out too often.
It isn't meant as a knock against who Fowler is. He is a very good Major League player. It is meant to say that his talent is good enough to bring back a middle-of-the-rotation starter and potentially a prospect back. If that is the case, and because he has been given long enough to be a star in Colorado and it simply hasn't happened, suggests that he will never turn that corner in Colorado, and should be given a shot to do it somewhere else.
Follow me on Twitter
@RockiesReview
. Like me on Facebook, search
"Rockies Review"