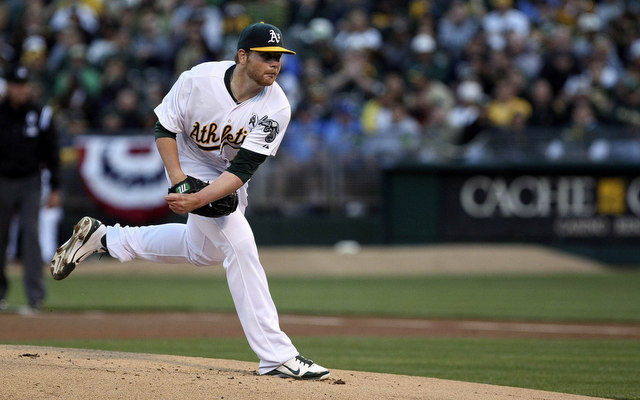 Brett Anderson gives Rockies fans a reason to be optimistic.
Cynicism reigns supreme for fans of the Colorado Rockies.
Frankly, it's hard to blame any fan of the Rockies for being slightly sarcastic when it comes to this franchise. After all, this is a club that was poised to go on a run that propelled them into contention for several years. Instead, after two incredible runs in 2007 and 2009, the Rockies have faded back to a familiar position, irrelevant.
According to the pros, fans have a good reason to be cynical.
SportsBettingDime.com
lists the top 10 online betting websites, all of which don't give the Rockies much of a chance to be good.
However, it really isn't fair to write off the Rockies. Sure, when the records are all 0-0 it is easy to have hope for any team. For the Rockies, the story is an interesting one. Despite a head scratching move that involved ripping on Dexter Fowler's character, then shipping him to Houston for next to nothing, the Rockies actually had a pretty good off-season.
LaTroy Hawkins isn't going to strike fear in any hitter, but he provides depth to the bullpen. Any depth is welcomed in that department. Boone Logan brings an upgrade to the situational lefty department, and Franklin Morales returns in a move that could also provide some decent depth.
On the starting side, the acquisition of Brett Anderson from Oakland could prove to be genius. The oft-injured lefty has ace-type stuff. The problem is he can't stay healthy. If prospects Jonathan Gray and Eddie Butler can continue their rapid development, they may be at the big league level just in time to fill gaps in the rotation.
Justin Morneau, despite being on the backside of his career, really could provide a boost to the offense and should make the loss of Todd Helton's glove at first base slightly less noticeable.
Troy Renck, one of the best writers in baseball, penned a piece for the Denver Post about the
chances of the Rockies being good in 2014
. His assessment is spot-on. If the Rockies can stay healthy, specifically Anderson, Troy Tulowitzki and Carlos Gonzalez, the Rockies have a chance to turn some heads.
Injuries are such a concern for the Rockies and their fans that with more than a week before Spring Training, it already is the topic on everyone's mind. Thomas Harding, the Rockies beat writer for MLB.com wrote a
piece on just how important staying healthy
is for this team.
The Rockies, in all fairness, are a very difficult team to predict. They have the talent to win 90 games and they have the talent to lose 90 games.
The issue for the Rockies is that their model essentially comes down to "cross your fingers and hope for the best."
If everything goes exactly according to plan, the team should compete. The problem is, how often does everything go exactly according to plan? In 2009 the Rockies had five starting pitchers with 10 or more wins. That says that everyone stayed healthy. The odds of five starting pitchers staying healthy for an entire season is so rare that it may be another generation before it happens again.
Even if all five starting pitchers stay healthy all season long, the Rockies still depend on their two superstars to play in 145 or more games. Based on their injury history, the odds of both Troy Tulowitzki and Carlos Gonzalez remaining healthy all year long seems like a stretch to even the most positive Rockies fan.
After three very disappointing seasons, Rockies fans have every reason to be cynical. They have watched a team with two superstars fall far short of expectations. They have seen injuries be blamed over and over again when the truth is that the team didn't have enough depth to fill in the holes when a player went down with injury.
The Rockies could surprise some people in 2014, but don't count on the cynics going away any time soon. The performance of this club over the past few years has left some very loyal fans with a bitter taste in their mouths.
Follow me on Twitter
@RockiesReview
. Like me on Facebook, search
"Rockies Review"