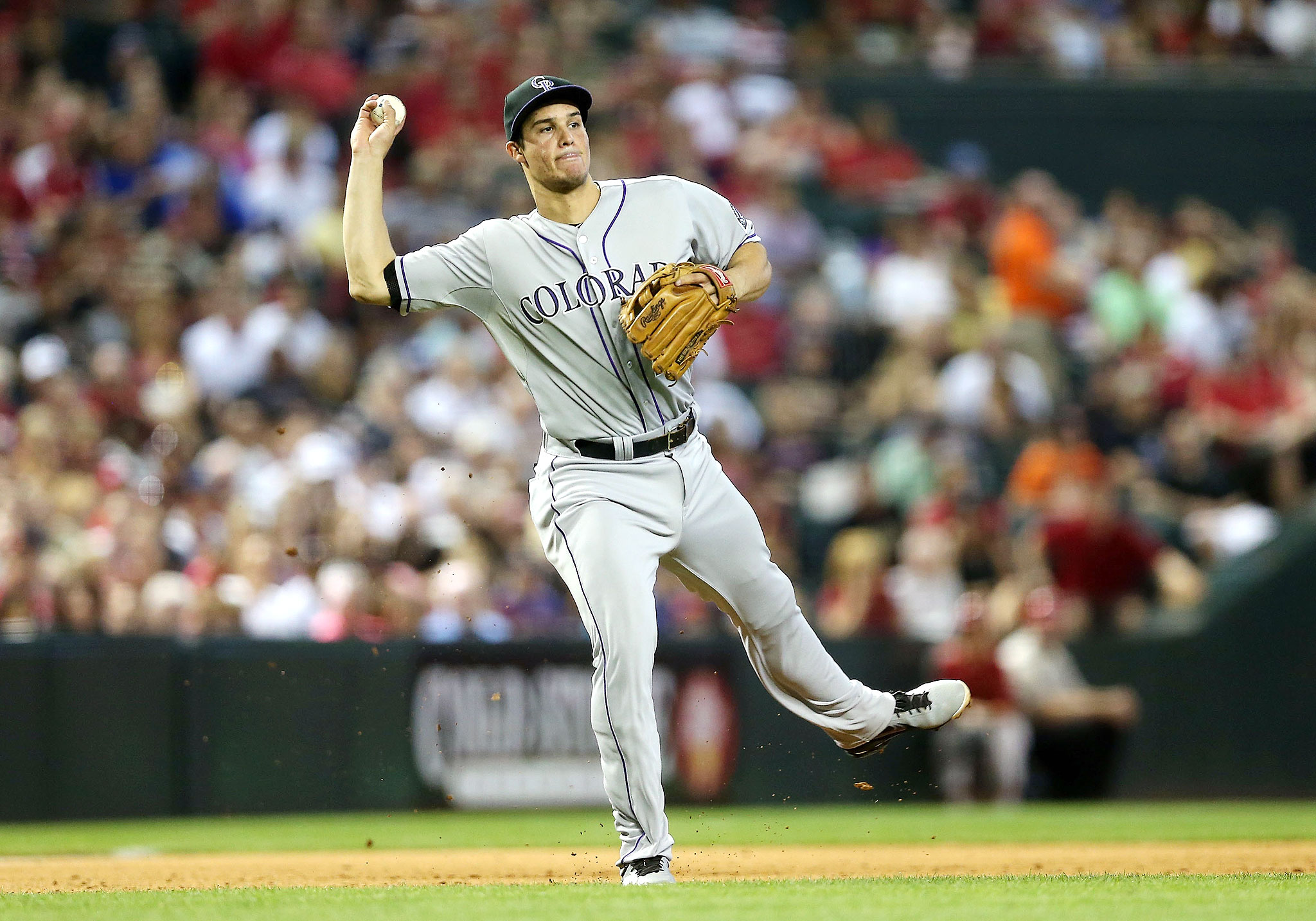 Nolan Arenado is becoming a star for the Colorado Rockies.
Most teams find the road a lonely place. The Colorado Rockies have traditionally taken that to a whole new level.
Perennially, the Rockies have been awful on the road. They have been so bad that people have actually done studies and formed theories on the effects of playing at high altitude, then returning to sea level on the body.
The calendar still says April, so there is plenty of reason to believe that it is a fluke, but after the Rockies impressive win on Monday night the team currently sits at 3-1 on their current six game road trip through Los Angeles and Arizona, two places that have given them so much trouble in the past that the goal is ultimately to avoid being swept in both places.
On Monday night, the Rockies faced Wade Miley. In his short big league career, the Rockies have done their best to make Miley look like a first-ballot hall of famer.
This was a game that was ticketed for the loss column. Franklin Morales was on the mound for the Rockies and was due for a bad start. Miley owns the Rockies. It generally is a game that Rockies fans wouldn't need to stay up late to wait for the outcome. Typically, a game with this scenario is 6-0 by the 3rd inning with the Diamondbacks looking to get healthy at home.
The only part of that story that ended up being correct was the part about Morales struggling. The Rockies lefty struggled through five innings. He gave up four runs on seven hits, walking two and striking out two. For Morales, the issue was command. That is nothing new for the lefty. His stuff has always been electric. However, anyone saying that they have confidence that he can put a pitch across the plate on command is a liar.
Make no mistake, the Rockies are built around two superstars. If those two guys aren't playing, the make up of the entire team is different. However, some of the other guys on this team are making statements with their bats that they are contributors as well.
Nolan Arenado, one year to the day since his Major League debut, extended his hitting streak to 18 games with a 2-for-4 performance at the plate. He seems to be standing at the plate with more confidence than he possessed for the majority of his rookie season. He seems to understand what pitchers are trying to throw to him and is fouling off pitches that he can't drive, and driving the pitches that he gets in his zone.
Charlie Blackmon, despite going 0-for-3 on the night, contributed with a long sacrifice fly in the top of the 9th inning that gave the Rockies a three-run cushion, a number that makes things easier for the closer. He hit his sacrifice fly off of Joe Thatcher, a very tough lefty pitcher for the Diamondbacks who generally leaves lefty batters missing by three feet.
DJ LeMahieu quietly is improving as well. His defense at second base is flawless, but after two more hits on Monday, his batting average is up to .312. No one talks about LeMahieu, possibly because of his quiet demeanor and his position on the field, but the reality is, he is a huge contributor, especially way down in the lineup.
On Monday Troy Tulowitzki had a phenomenal night, going 3-for-3 with two doubles and a home run. There is no doubt that when he is on, this team is far different. There isn't a pitcher in baseball who would be excited about facing the Rockies when both Tulo and Carlos Gonzalez are on.
In years past, when Tulo and CarGo go on the disabled list, and it is when, not if, the Rockies have spiraled out of control. The team simply couldn't handle the loss of their bats. While admitting that it is still only April, and on this day one year ago the Rockies were in first place in the National League West, this team looks different than 2013. This team looks like a more complete team. The addition of Justin Morneau and the growth from Arenado, Blackmon and LeMahieu have made this team a more mature lineup. These guys don't have to completely rely on their big-name stars.
If the Rockies are going to make a run, they absolutely need to have big contributions from the guys who aren't household names. They are going to need contributions both at Coors Field and on the road.
The good news is, the Rockies look like they aren't having the same issues that have always plagued them on the road. It is early, but a team that has been as bad as the Rockies needs something to build on. This start is as good of a building block as any.
Follow me on Twitter
@RockiesReview
. Like me on Facebook, search
"Rockies Review"