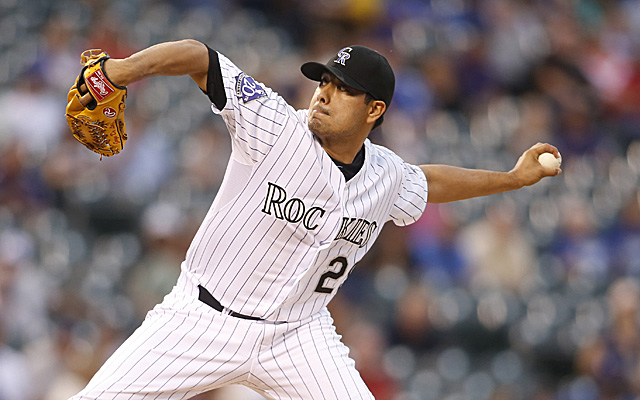 Jorge De La Rosa returned to form on Friday night.
0-for-6 with two walks and three strikeouts.
When Carlos Gonzalez and Troy Tulowitzki combine for those numbers, it usually doesn't result in a win for the Colorado Rockies. On Monday night at Coors Field, not only did the Rockies win without the help of their two sluggers, they won in blowout fashion.
The Rockies took some revenge on the Giants, who broke their hearts twice less than 10 days ago in San Francisco. A four-run 1st inning, followed by another run in the 2nd and two more in the 3rd inning, the Rockies rode to victory at the expense of San Francisco starter Ryan Vogelsong.
Who needs Tulowitzki and Gonzalez to lead the way when Charlie Blackmon is turning a good week into a good month? On Monday night, the lefty hit not one, but two home runs. His two bombs were part of the Rockies five home run night. He hit two, while Nolan Arenado, Wilin Rosario and Corey Dickerson got in on the action, making a rough night for the Giants.
The offense gave a nice cushion for Rockies starter Jorge De La Rosa, but the lefty showed his stuff is still good enough to be considered an ace. Despite only going five innings, De La Rosa showed that his edge is back. Ridiculed for giving up a grand slam to the pitcher in San Francisco, De La Rosa proved that he can work around traffic and get outs.
Despite loading the bases with no one out in the 3rd inning, De La Rosa minimized the damage. He got always-dangerous Buster Posey to break his bat and ground into a double play, then he struck out Michael Morse to get out of the inning while only giving up one run.
The inning showed a return of confidence for the Rockies ace. In his first four starts, De La Rosa seemed to let those types of situations get to him. The adversity seemed to upset him more than it had in 2013 when he won 16 games. A year ago, he was so good at getting out of jams by using his wipeout slider and forcing bad swings.
On Monday, De La Rosa looked more like the guy from a year ago. He pitched with confidence, not intimidated by the former MVP at the plate.
The reality is, De La Rosa has phenomenal stuff. He throws a great slider and a changeup that can get anyone out. On top of that, his fastball still sits in the mid-90's. When De La Rosa believes in himself and pitches with confidence, he is one of the best in the game. He showed that on Monday.
What happened Monday night at Coors Field is another example of why so many Rockies fans continue to have confidence that this team can surprise everyone and turn into a legitimate contender. They had their two best players go hit-less on the same day in which they put their reigning batting champion on the disabled list. Despite that, they still went out and scored eight runs against a team in the Giants who has perpetually made the Rockies their punching bag.
The Rockies have always been a team with the ability to hit the ball out of the park and win by simply outscoring their opponent. However, they always struggled with the most important aspect of baseball, pitching.
When De La Rosa is on his game, and the rest of the rotation is factored in, there is reason to believe that this team could shock the baseball world and be far better than anyone would anticipate. Behind De La Rosa is a surprising Jordan Lyles, Tyler Chatwood, and very shortly Jhoulys Chacin.
This Rockies team is one that can only be good if everything goes exactly as planned, but at this point in the season, there is no reason to think that it won't. Until something goes wrong, Rockies fans should be excited about a team that might be better than they expected.
Follow me on Twitter
@RockiesReview
. Like me on Facebook, search
"Rockies Review"