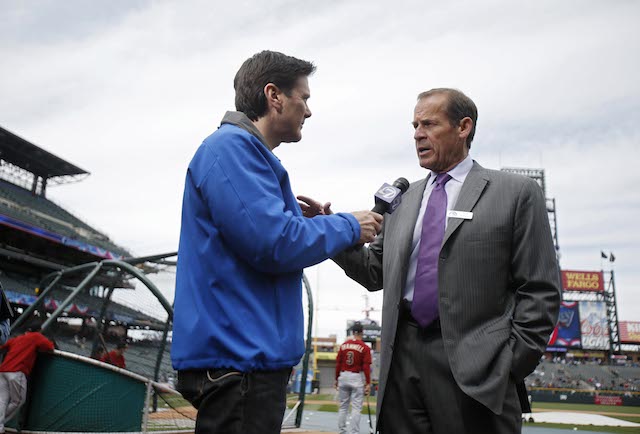 Dick Monfort is being forced to understand Rockies fans frustration.
The statement has been made, and it seems like the message is clear.
Patrick Saunders sat down with Dick Monfort on Tuesday afternoon to do an interview in which Saunders asked some very pointed questions. Monfort was gracious enough to do the interview, but the results were probably not what he was looking for.
While Monfort is a seemingly very good man, the one thing that he lacks more than baseball knowledge is eloquence. The Colorado Rockies owner came across very disconnected. He seemed displeased with the current results on the field, but clearly had no idea how those results came about.
The situation prompted a fan from Grand Junction to post to Twitter the response that he got from a response survey he took after driving his family four hours across the mountains to spend their 4th of July at Coors Field.
In a one-sentence response with no punctuation and words missing, Monfort told the fan that if he doesn't like the experience of Coors Field, then don't come.
That post, which included Monfort's email address, caused hundreds of fans to put in their two cents. Many posted their email, along with Monfort's response, to Twitter and Facebook. While some were worded well and drove the point home well, others were disrespectful and probably out of line. However, one thing is clear, if Dick Monfort believed that status quo was going to be fine for another year, he doesn't believe that now.
Rockies fans have made it clear that they are tired of the same old song and dance. They are tired of hearing about how great of a baseball guy Dan O'Dowd is, how injuries de-railed the season once again, and they are tired of hearing about how great the guys down on the farm are.
The reality is, talking about the prospects on the farm is something that can always be used as an excuse. One crop of prospects comes up and fails at the big league level, point to the guys at Double-A currently. When those guys fail at the big league level, there will be a whole new group of prospects on the farm to help raise the hope for the fans.
Monfort's knowledge of baseball is clearly not much higher than average. He spits out statements that seem like a regurgitated version of something that he heard the other guys in the front office talking about. He sounds like a little brother who was listening in on a serious conversation that his older brother and friends were having, then tried to repeat it to someone else as if he knew something important.
Many fans were upset that Monfort points the finger at himself. He doesn't blame O'Dowd or Geivett for the failures, he blames himself. Fans out for blood want the guillotine to fall on O'Dowd's head and want nothing less than a blood bath. However, fans need to realize that Monfort is absolutely correct. The issues with this team fall squarely on his shoulders.
When Keli McGregor died in April of 2010, the Rockies were without a president, and had lost a degree of leadership that is clearly hard to even put into words. Monfort stepped into that role and never left it. The intricacies of the game seemed to overwhelm him, so he leaned on the guys in the front office to help him out. The problem is, he has nothing else to judge what they are telling him by.
Monfort's statements make it fairly clear that he doesn't go home and watch the west coast games on MLB Network, and he isn't reading articles on other teams. His baseball knowledge is only about the Rockies and what O'Dowd tells him.
When he says that he is the one failing, he is correct.
O'Dowd is only doing the job that he knows how to do. It isn't his fault that he is horrible at it, and based on interviews in the past, he seems burned out on it. When he tried to quit, Monfort begged him to stay. It's not his fault that he isn't able to do the job, it is Monfort's fault for leaving him in that role when he is clearly failing miserably at it.
The Rockies are at a clear crossroads. For two-plus decades they have been given a free pass in Denver because everyone is thrilled to have an awesome ballpark in a great place to spend a Colorado summer night. However, this state longs for a winner. They are tired of the excuses, and the free passes have come to an end.
It is easy for Monfort to switch the sports talk radio stations to a different frequency when talk show hosts are bagging on him and his team, but it is nearly impossible to ignore a drove of emails expressing nothing short of pure anger at the way the Rockies have been playing.
If the events of the past couple of days haven't woken Monfort up to what baseball fans in Denver are demanding, then nothing will. If Monfort doesn't make serious changes in the offseason, he never will.
Follow me on Twitter
@RockiesReview
. Like me on Facebook, search
"Rockies Review"