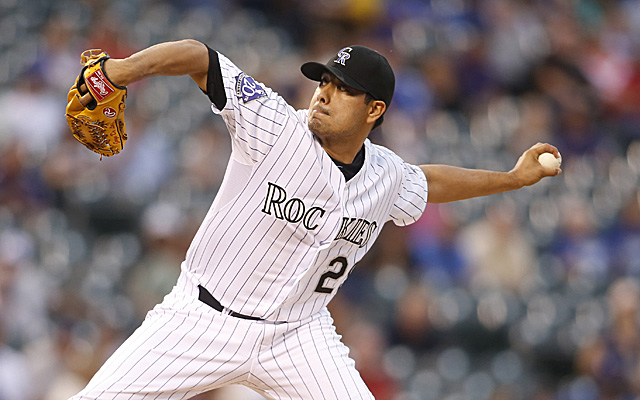 Can De La Rosa pitch everyday for the Rockies?
The Colorado Rockies like to use unconventional wisdom in their front office.
Maybe they can go back to the baseball thoughts of the early 1900's when a team had one starting pitcher and he pitched complete games every day, sometimes twice if there was a double header. Why would the Rockies employ this age-old practice? Because they only win games in which Jorge De La Rosa starts.
Of course that idea is a joke, but with the Rockies as bad as they have been in the past six weeks, it shows how good De La Rosa is. He has been the one consistent, uninjured, pitcher who has been able to give the Rockies a chance to win every time he takes the mound.
Watch baseball long enough and it becomes clear. When a team has someone on the mound who they know will give them a chance to win, they generally play better in the field and take better at-bats at the plate. A good starting pitcher gives the team a mental edge that allows them to play with a winning mentality instead of feeling like they are defeated from the beginning.
On Saturday at Coors Field, De La Rosa was brilliant. Despite a reversed scoring decision that caused two 1st inning unearned runs to become earned runs, the Rockies lefty gave the club a great performance. The scoring decision, which came on a ground ball to Josh Rutledge who airmailed the ball into the stands. The original scoring was a two-base error. The revision gave Yasiel Puig a single with an advancement to second base on the throw. It also caused the second run of the inning to be earned as well.
The scoring decision was awkward, and frankly, incorrect. Especially considering who the home team was. There was no sense in giving Puig a hit, especially when Rutledge was going to be charged with an error regardless.
Regardless, De La Rosa settled in and allowed only three hits from the Dodgers in six innings. He walked three and struck out three. His greatest improvement over the early days of his career is his ability to get outs when it seems like things could get out of control. In the 4th inning, with two outs, De La Rosa lost his control and walked AJ Ellis and Miguel Rojas back-to-back. However, instead of letting things get out of control, De La Rosa calmed himself down and struck out Dan Haren to end the threat.
De La Rosa left with the Rockies comfortably ahead 8-2. The problem is, there is no such thing as 'comfortably ahead' for these Rockies. Nick Masset promptly gave up four earned runs on three hits and a walk. He didn't retire a single Dodgers batter. In came Boone Logan, straight off of the disabled list and into the game. He also failed to record an out, while giving up a hit and walking two.
Suddenly, the Dodgers had the tying run in scoring position with no one out in the 7th inning. If it wasn't for Adam Ottavino coming in and getting a double play and an out, the Rockies may have made Saturday's game a big argument for the worst loss in a season full of awful losses.
A win is a win, and the Rockies will take them however, they can get them. However, the Rockies were one bad pitch away from losing another game, blowing a great performance from their only starting pitcher who has consistently kept them in games, and sinking another game closer to what looks like an inevitable ending in the basement of the National League West.
The Rockies may have injuries as a valid excuse for their failures in 2014, but what is their excuse for the failed signing that is Boone Logan? He spent one month on the disabled list, but that fact should also be a notch against Dan O'Dowd and Bill Geivett, as his injury history, specifically with his elbow, was clear before the Rockies well overpaid to have his services for two years.
The bullpen, while taxed because of the lack of quality starts from the rotation, has been largely awful from Opening Day. The injuries of the starters can be blamed to a certain extent, but at some point, guys have to get outs. Blaming injuries is fine if one or two guys arms get blown up because of overuse, but when nearly no one is effective out of the bullpen, it means that the area wasn't well addressed in the offseason.
Ottavino, besides a tough stretch that could be excused because of overuse, has been a huge surprise for the Rockies. Beyond him, there are very few success stories. LaTroy Hawkins, despite blowing a few games has been effective. He isn't truly a closer, but he can't receive an "F" for his work. Beyond those two, Tommy Kahnle, who was taken as a flyer, has been extremely good for the club. After that, the bullpen has been a complete disaster.
The win is nice for the Rockies, but the scary thing for fans is that the one starting pitcher who is able to pitch well enough to give the Rockies offense a chance to win is only under contract through the end of the season. The Rockies had a chance to reach out over the winter and extend De La Rosa, but they clearly felt that their pitching depth was good enough to allow him to test the market. If one thing has been shown in 2014, it is what most Rockies fans knew, but O'Dowd and Geivett apparently don't. There is no such thing as enough pitching depth.
The Rockies picked up a win by the skin of their teeth, but the same issues that have plagued them throughout the season showed up again on Saturday. It could have been worse, but at this point, a win is a win.
Follow me on Twitter
@RockiesReview
. Like me on Facebook, search
"Rockies Review"