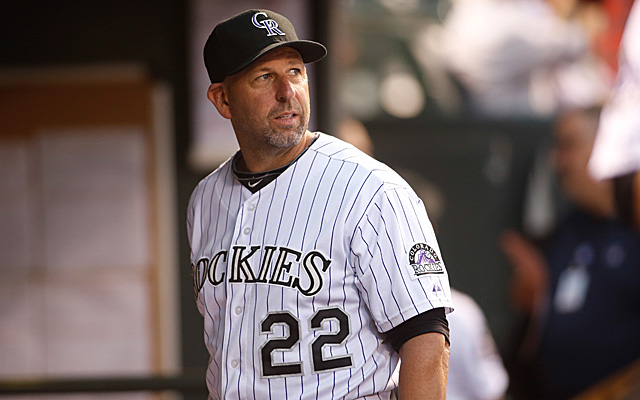 Walt Weiss needs to put his foot down.
At some point, the question has to be asked, why do the Colorado Rockies insist on employing a strategy that has been nothing short of a failure?
That was the case again on Tuesday night, as Rockies rookie Tyler Matzek had a very good outing. Through 6-2/3 innings of one-run baseball, Matzek was showing that he was taking another step in his maturation. He was shutting down a hot Royals lineup, and despite only two runs of support, was in line for the win.
However, he was showing signs of tiring, as he walked two Royals batters back-to-back with two outs in the 7th. With 98 pitches thrown, there was no room for argument, Rockies manager Walt Weiss walked to the mound and pointed to the bullpen with his right arm, indicating that he wanted Adam Ottavino, who was warming up in the bullpen.
While Ottavino has been good for the Rockies in 2014, the outcome was extremely predictable. In fact, it was almost a certainty. Ottavino came in to the game and promptly served up back-to-back doubles to Omar Infante and Salvador Perez. Suddenly a 2-1 lead in the Rockies favor was now a 4-2 deficit.
If a 4-2 deficit wasn't a certain loss for the Rockies, Weiss and Co. made sure that the game never got interesting. For the 8th inning, he summonsed Rex Brothers from the bullpen, who brought his can of kerosene with him to the mound. He dumped that fuel all over the fire and watched the Royals increase their lead to 7-2. It essentially nullified a late Rockies rally that got them within three runs.
The bullpen is what it is. At some point, Weiss has to trust the guys he has. He has to go with the tools that are available to him. However, when the tools are as bad as they have been all season long for the Rockies, there comes a point in time when some of the pitch count practices have to be abandoned in order to preserve a win.
In a lost season, the true goals become to get better for the following season and the years to come. One of the key components in the Rockies climbing back to respectability is to have Matzek be someone who they can rely upon. The only way for him to grow up at the big league level is for him to endure through the tough situations. Matzek had created the problem with back-to-back walks, but with two outs and the game on the line, no starting pitcher wants to leave his fate in someone else's hands.
In fact, there probably isn't a better situation for Matzek to experience for him to grow through. With his body tired and the game in the balance, it was a great time to find out what Matzek is made of, not only for the franchise, but for himself. A huge confidence booster could have come with a big out against Omar Infante. Instead, Matzek had to watch the bullpen turn his win into a loss.
That situation has been all-too-common for the Rockies in a failed and miserable 2014 season. This is a team that has a historically bad bullpen. It could become a drinking game for fans to correctly predict which member of the pen will have the collapse that will cost the Rockies the ballgame. Of course, the bullpen will have to be used, regardless of talent level. At some point, the faith has to be put back into the guys that are down there, whether or not they are adequate or not. However, when a young pitcher has a chance to prove himself and grow up, that is the absolute last point in which the bullpen should be called upon.
Many will point to the front office and their requirements that they put on Weiss as the manager. However, at some point, Weiss has be the one who is willing to explain that he felt it was Matzek's time to shine and that he was willing to give him a shot to prove it. If the front office can't go for that explanation, then Weiss should be willing to suffer his own consequences. In the end, Weiss is the one who history will judge when it comes to this team.
When the numbers are finalized, and 10 years from now when people look back on the Rockies, they aren't going to say that the failures of the Rockies and their funky bullpen management was due to the members of the front office who were pulling the strings, history will remember that Weiss was the manager and that in his first two seasons, at least, that he had an abysmal record and didn't have a clue about how to manage a team.
With that in mind, if Weiss isn't managing the game that he wants to manage, he needs to put his foot down. He needs to be willing to hear about it later in the clubhouse and be willing to state his position. However, when the wins become more frequent and the blown saves aren't as often, it might be possible that Geivett and his team might start bugging Weiss a little bit less about going against their theories.
However, until that happens, and until the Rockies build a better team, starting with their bullpen, things aren't going to change. Their young pitchers will be held back and their bullpen will continue to be overworked and struggle. All of that will lead to the Rockies continuing to lose baseball games.
Follow me on Twitter
@RockiesReview
. Like me on Facebook, search
"Rockies Review"