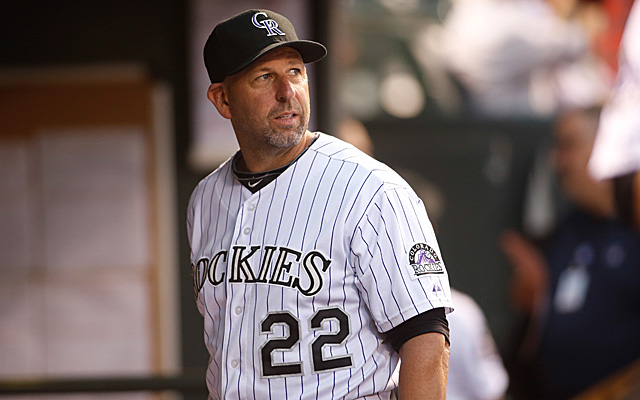 Walt Weiss needs a magic wand to make this season go away.
Apparently Walt Weiss isn't the magician in this circus act.
When Weiss addressed the media after the Colorado Rockies lost yet another game in a new embarrassing way. He was asked about a team meeting that was held before the game in which Weiss addressed the team. He told the media that he didn't say abracadabra or anything like that, alluding to the fact that there is no magic wand to fix the Rockies.
On Saturday night, the Rockies headed into the 8th inning with a one-run deficit. Nolan Arenado had just hit a solo home run to bring the club to within one run. With Tommy Kahnle on the hill, and an impressive showing from the offense in the 9th inning on Friday night, it seemed, for a moment, that there was some hope.
That hope was quickly dashed when the Diamondbacks took advantage of what cannot be described as anything but a bullpen that was built with irresponsibly. Arizona capped off a nine-run 8th inning with a no-doubt grand slam off of the bat of rookie David Peralta. Suddenly a one-run game was a 14-4 lead for the Diamondbacks, who looked destined for a date with October when playing against the Rockies, when, in reality, they are a 51-66 team simply waiting for the offseason to make serious changes.
Those who still manage to defend the Rockies and the way that the club was built point to injuries as the reason for the cliff dive this team has been on. However, while injuries have had a secondary effect on the bullpen, the reality is, this group wasn't built for success. In fact, they were built without a hope and a prayer.
While Kahnle has been the lone bright spot, the Rockies got lucky with him. As a Rule-5 draft pick, Kahnle easily could have been swooped up by other teams, and had he faltered at all during spring training, the Rockies may have opted to ship him back to the Yankees, per the rule.
The issue with Kahnle remains, however. There is a reason that a guy toils for five years in the minor leagues without making the 40-man big league roster (which is how a player becomes eligible for the Rule-5 draft). While Kahnle possesses incredible talent, he is a rookie. He is a guy who has to figure out the big leagues and probably doesn't have more than a mid-to-upper 90's fastball to get guys out with consistently.
Beyond Kahnle, the bullpen has been a complete joke. While no one predicted the demise of Rex Brothers, other failures were predictable.
Matt Belisle's overworked arm had shown it's downhill slide in 2013. Wilton Lopez, who was finally shipped back to Triple-A Colorado Springs, was a complete disaster a year ago. Adam Ottavino has been good, but his lows have been very low. While LaTroy Hawkins has overall good, when a 41-year-old closer who has pitched since the last work stoppage in baseball is signed to be a team's closer and is a highly touted move by the front office, it speaks volumes about the team's bullpen.
The Rockies front office and ownership may want to believe that this team is closer to success than the angry fans and bloggers suggest, the reality is, there are serious holes that need to be filled. The farm system that the team loves to talk about hasn't produced a legitimate Major League player or pitcher since Arenado made his debut in April a year ago. Every other prospect to make a debut since then has either been strongly underwhelming or has injured themselves.
With a limited budget, the Rockies must focus on their bullpen in the offseason. The problem with that idea is easy to see. The rotation might be just as pathetic as the bullpen. With Jorge De La Rosa becoming a free agent, the Rockies must address him first. With the success he has had at Coors Field and overall, he won't come cheap. Beyond De La Rosa, the team must see if Brett Anderson's back is healthy, then see what they have in Tyler Matzek, Jordan Lyles and a huge slew of prospects that are a 50/50 propositions at best.
The unfortunate truth is, if Walt Weiss did have a magic wand that could get rid of the cause of all of the Rockies issues, he might say 'abracadabra' and Dan O'Dowd would suddenly disappear into a plume of smoke.
Follow me on Twitter
@RockiesReview
. Like me on Facebook, search
"Rockies Review"